Mubaku Village
The School is located in the Mubaku village is located in northwest Uganda, with a population of 730 (389 male and 341 female).  The surrounding area, served by the school, has a population of 2,366 (1,134 male and 1,090 female).  The village is in the heart of central Africa, near Lake Albert.    Across Lake Albert is the Democratic Republic of Congo. It borders Murchison Falls National Park on the southern bank of the Victoria Nile.  Mubaku has undergone decades without significant development in terms of education, infrastructure, transportation, health facilities, and access to clean water.
The School is one of the efforts of the Mubaku Community Conservation Organization (MUCCO), a not-for-profit Community Based Organization (CBO).  It is focused on education, health and sanitation, access to clean water, and sustainable development for the Mubaku community in the Albertine region of Uganda.
One of the accomplishments of MUCCO is the formation of a native band and dancers to play in the local lodges.
Here is a video of the band and dancers practicing, from Oct. 2019.
Uganda, The Pearl of Africa
Uganda was called the Pearl of Africa by Winston Churchill.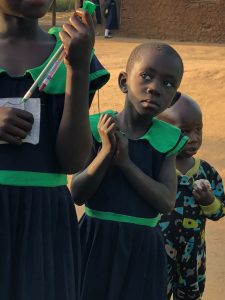 Uganda is a landlocked country bordered by South Sudan to the North, DRC Congo to the West, Rwanda, and Tanzania to the South, and Kenya to the East.  It is astride the Equator. Topographically much of Uganda can be classified as a plateau with numerous hills, valleys, and extensive savanna plains.
Uganda averages about 1,100 Metres (3,609 ft) above sea level, sloping very steadily downwards to  614 meters (2,014 ft) where the Albert Nile crosses the border with South Sudan.
Much of the south of the country is heavily influenced by one of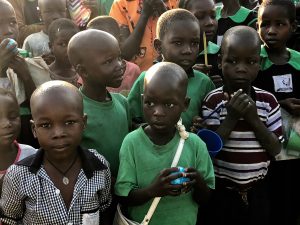 the world's biggest lakes, Lake Victoria. Although landlocked, Uganda contains many large lakes. Besides Lakes Victoria,   there are Lake Kyogam, Lake Albert, Lake Edward, and the smaller, Lake George.
Most important cities, including the capital Kampala and the nearby city of Entebbe, are located in the south.
Uganda lies almost completely within the Nile basin. The Victoria Nile drains from Lake Victoria into Lake Kyoga and thence into Lake Albert on the Congolese border. It then runs northwards into South Sudan. An area in eastern Uganda is drained by the Suam River, part of the internal drainage basin of Lake Turkana. The extreme north-eastern part of Uganda drains into the Lotikipi Basin, which is primarily in Kenya.